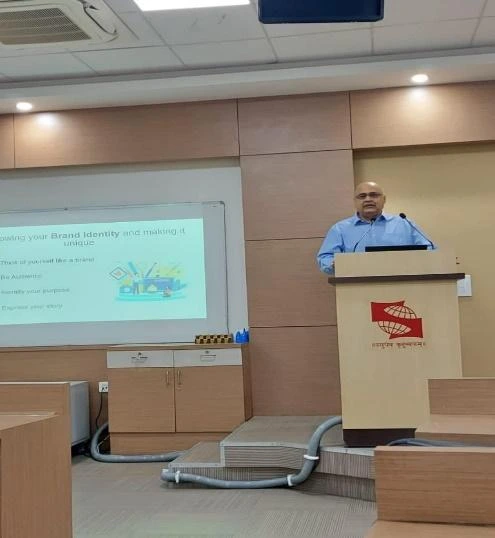 The workshop was conducted by Mr. Amitabh Verma, CEO, AMP Digital on 29/7/2023 and had the following objectives –
To educate MBA students on the importance of personal branding in today's competitive job market.
To provide practical guidance on creating a compelling LinkedIn profile that highlights individual skills, achievements, and aspirations.
To demonstrate effective strategies for enhancing visibility, networking, and professional development through LinkedIn.
To inspire students to proactively manage their personal brand and leverage it for career growth.
The speaker spoke about –
The Importance of Personal Branding: Mr. Verma emphasized the significance of personal branding in today's professional landscape. He explained how a well-crafted personal brand can differentiate individuals and enhance their career prospects. The discussion included insights on how personal branding influences employer perception, networking opportunities, and career growth.
Optimizing LinkedIn Profiles: The session provided step-by-step guidance on creating an impactful LinkedIn profile. Participants learned how to highlight their education, skills, work experience, and achievements effectively. Mr. Verma shared best practices for crafting a compelling summary, using appropriate keywords, and utilizing media elements to enhance the profile's visual appeal.
Building a Professional Network: The workshop delved into strategies for expanding and nurturing a professional network on LinkedIn. Participants discovered effective methods for connecting with industry professionals, alumni, and potential employers. Mr. Verma shared techniques for engaging with connections, participating in relevant groups, and leveraging LinkedIn's search functionality to enhance networking opportunities.
Leveraging LinkedIn for Career Growth: The workshop concluded with insights on leveraging LinkedIn for career growth and professional development. Mr. Verma shared tips for discovering job opportunities, showcasing expertise through content creation, and leveraging LinkedIn's learning resources. Participants gained a comprehensive understanding of how LinkedIn can serve as a platform for continuous learning, career advancement, and personal brand management.