The workshop on Business Storytelling was conducted as part of the inaugural programme "Excelsior 2023" during the MBA student orientation week at SIBM Noida.
The workshop was held on 03rd July 2023 and was facilitated by Mr. Aman Kaushik, CEO of Fulcrum-Push. The objective of the workshop was to enhance the students' storytelling skills and their ability to effectively communicate ideas in a business context.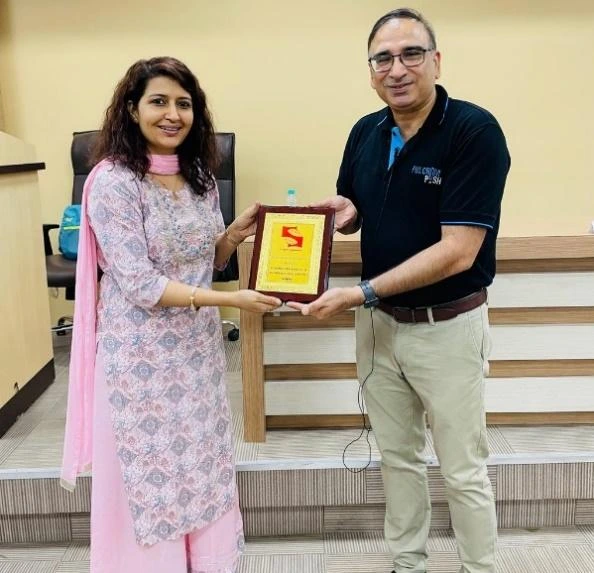 The coverage included-
Introduction to Business Storytelling: Mr. Aman Kaushik began the workshop by introducing the concept of business storytelling and its significance in the corporate world. He explained how storytelling can be a powerful tool for conveying ideas, connecting with an audience, and creating a memorable impact.
Elements of Effective Business Storytelling: The speaker discussed the essential elements of a compelling business story, including a clear structure, engaging narrative, and relevant examples. He emphasized the importance of creating a strong emotional connection with the audience through storytelling.
Crafting Engaging Business Stories: Mr. Kaushik guided the students through the process of crafting engaging business stories. He shared practical tips on developing a captivating opening, building suspense, and delivering a memorable conclusion. The students actively participated in exercises that helped them apply the techniques discussed.
Storytelling Techniques for Business Presentations: The workshop also focused on incorporating storytelling techniques into business presentations. Mr. Kaushik provided insights on how to leverage storytelling to make presentations more engaging, persuasive, and impactful.
The workshop provided the students with a solid foundation in the art of storytelling, enabling them to communicate their ideas effectively and engage their audience in a business context. The interactive nature of the session allowed students to actively practice and apply the techniques taught by Mr. Kaushik.