Mr. Premjeet Sodhi
Chief Strategy Officer, Wavemaker
Mr. Premjeet Sodhi delivered an engaging address and shed light on the evolving nature of media consumption and its impact on consumer behaviour.
Mr. Sodhi emphasized the criticality of understanding how consumers choose media platforms. He explained that with time, the choices available to consumers have increased significantly, resulting in a decrease in the stickiness of content. He highlighted how consumers now switch channels rapidly, indicating the need for media companies to adapt and engage their audiences effectively.
He discussed the exponential growth in touchpoints available for consumer engagement. He emphasized the importance for media professionals to identify and utilize these touchpoints strategically to reach their target audience. Mr. Sodhi provided insights into the diverse media landscape in India, highlighting its dynamic nature and the need for media professionals to stay updated with the latest trends.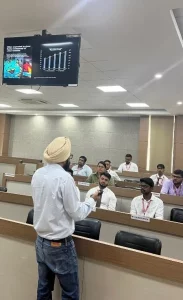 Mr. Sodhi drew attention to the fact that cricket remains the largest audience aggregator compared to other impactful properties in the media industry. He explained the significance of cricket as a marketing platform and how it can effectively engage a massive audience. The speaker addressed the ongoing shift in the media industry due to technological advancements and changing consumer preferences.
He discussed the rise of digital media platforms and their impact on traditional media channels. Mr. Sodhi emphasized the need for media professionals to adapt to this shift and leverage digital platforms to engage with their target audience effectively.
Also, During the session, Mr. Sodhi graciously answered various questions posed by the students. The questions covered a range of topics, including his personal journey in the media industry, different roles within the industry, and the essential skills required to succeed in this field.
Mr. Sodhi provided valuable insights and shared practical advice to guide the students in their pursuit of a career in the media industry.