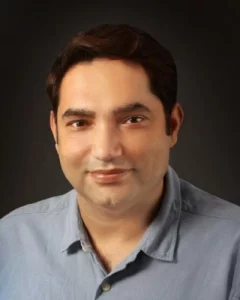 Mr. Kulpreet Singh Sawhney
Senior Director & India Lead – Learning & Talent Development at Publicis Sapient
The session aimed to provide valuable insights and guidance to the students through a question and answer format. Dr. Vandana Ahuja. Director SIBM Noida facilitated the session by interviewing the speaker, and Mr. Sawhney graciously provided answers to the questions, covering a range of topics related to life at Symbiosis, preparing for the corporate world, digitization, learning and development, talent planning, growth mind set, recruitment qualities, and his personal experiences.
The session followed a question and answer format, where Dr. Vandana Ahuja. Director SIBM Noida interacted with Mr. Kulpreet Singh Sawhney, interviewing him to gather insights and guidance for the students. Mr. Sawhney guided students on how to navigate their two years at Symbiosis, emphasizing the importance of being confident and applying the knowledge gained during their academic journey in the corporate world. He highlighted the significance of having the right attitude, being agile, and relating academic concepts to real-life corporate scenarios.
He emphasized that the academic and corporate world can be fun, and students should enjoy the journey. The speaker shared his journey and experiences with digitization, emphasizing that while digitization has made life easier, human connection remains important even today. He discussed the world of advertising and the role of learning and development in Publicis Sapient, providing insights into how digitization has transformed the industry. Mr. Sawhney discussed the importance of employee well-being and how organizations should prioritize the well-being of their employees.
He shared insights into talent planning and succession planning, shedding light on the criteria for growth in organizations and the significance of a growth mindset. The speaker provided valuable insights into the qualities he appreciates when recruiting, emphasizing the importance of effective communication, presentation skills, partnership, team-building abilities, and willingness to learn. He shared his experience of being given a project to establish an employee brand and employer promise, which provided him with a holistic view of HR and its importance in organizations.